---
Public Urged To Become Familiar With Crown Land Policy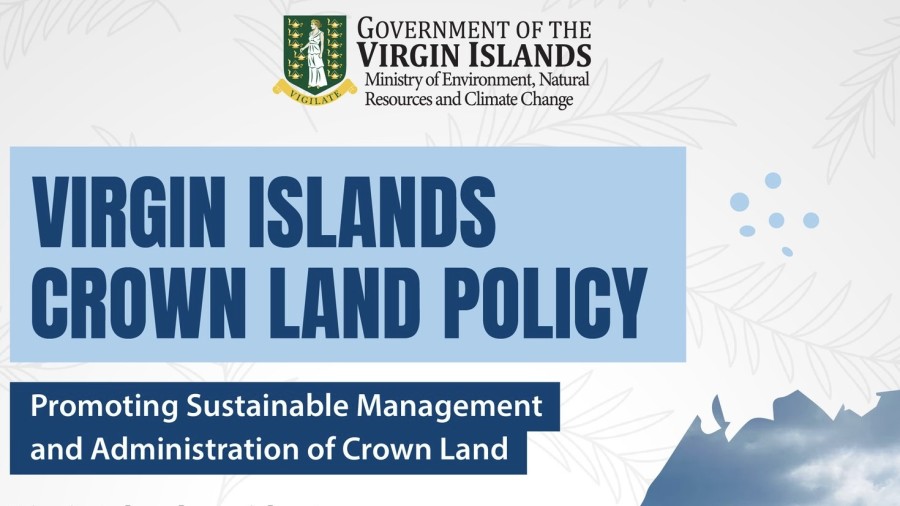 (PLTM) - GIS - Premier and Minister of Finance, Environment, Natural Resources and Climate Change, Honourable Dr. Natalio Wheatley is urging residents to pay attention to the Virgin Islands Crown Land Policy as public discussion continues on the document.
Honourable Wheatley said, "I cannot emphasise enough the need to preserve land for the public interest and to make land accessible to young people and young families, to give them that opportunity to own a part of their legacy as Virgin Islanders and provide avenues for them to create generational wealth. I urge everyone to familiarise themselves with the policy and also submit their ideas and concerns."
Honourable Wheatley said the policy among other things detail the history of Crown Lands, an essential part of the Virgin Islands past and touches on other topics including first time homeownership programme, lease of commercial and agricultural land, and Crown Land application criteria.
Premier Wheatley added, "As Virgin Islanders, your contributions towards shaping the final framework for managing Crown lands is of utmost importance. We, therefore, encourage you to give us your feedback and let your individual and collective opinions be part of the final document."
The policy seeks to ensure that the natural environment is protected for the benefit of present and future generations; it also seeks to ensure the conservation of the biodiversity and ecosystem integrity in the development of Crown land, particularly with regards to reclamations, docks, jetties, barge ramps, and other seabed development.
Public consultations have been held with residents of Anegada, Jost Van Dyke, Virgin Gorda, West End, Tortola and Road Town, Tortola. Plans are also in place to meet with residents of the East End/Long Look Community at a later date.
The Virgin Islands Crown Land Policy can be accessed on the Government of the Virgin Islands portal at bvi.gov.vg. Public feedback should be emailed to nrl@gov.vg
The Virgin Islands Crown Land Policy governs the administration management, development and use of all Crown land for all purposes, and focuses on strengthening the transparent administration and management of Crown land, including disposal of the same. This Policy does not address matters concerning private land.
Reader Opinion
Please note that the opinions posted are the opinions of its author and does not in any way reflect the views of the management, staff, parent company or sponsors of Virgin Islands Platinum News.
There are no comments to show at this time.
Cruise Schedule
IN PORT - TODAY ( 30 November )
NORWEGIAN ENCORE (3998)
7:00am
3:00pm
CELEBRITY REFLECTION (3046)
7:00am
3:00pm
SEADREAM I (113)
8:00am
6:00pm
IN PORT - TOMORROW ( 01 December )
SEADREAM I (113)
8:00am
11:59pm