---
Thirty-Eight Miles Of Primary Road To Be Rebuilt And Repaved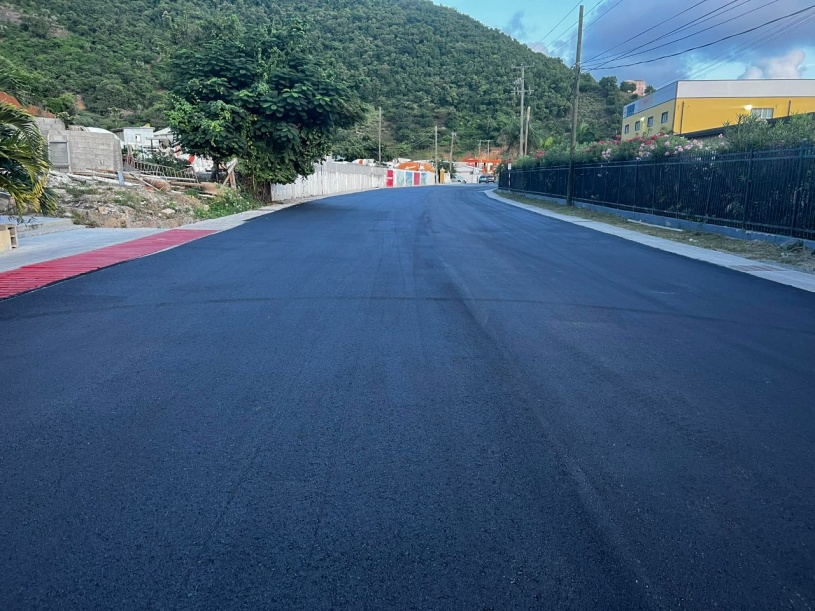 (PLTM) - GIS - Government of the Virgin Islands has issued a tender notice for Asphalt Paving and Road Markings throughout the Territory to address over thirty-eight miles of primary roads.
Minister for Communications and Works Honourable Kye Rymer in his statement at the Fifth Sitting of the First Session of the Fifth House of Assembly, said he is grateful to the Minister of Finance for his support and commitment to secure loan funding to allow the Ministry of Communications and Works to comprehensively address the Territory's road network.
The Minister said, "In the interim, we have started, in several areas, to upgrade the primary road network. The recently completed stretch of road in Fish Bay is a prime example. Ballast Bay, Great Mountain, Sabbath Hill, Hope Hill, and Little Dix Hill have also seen works inclusive of retaining walls, slipper and kerb walls and overlaying to provide a finished product that sets the standard for the quality of roads needed in the Virgin Islands."
Honourable Rymer added, "We understand the importance of drainage in the development and longevity of any road network; therefore, we have included over nineteen miles of curb walls and over nineteen miles of slipper drains to accompany the road reconstruction works. These works should be integral to any road design and they are included in ours. As you know, the longer water stays on the roads, the quicker they deteriorate."
The Minister said that the road patching that the Public Works Department currently does is not a long term solution to the multilayer deterioration that exists on many roads in the Territory. He added that all thirty-eight miles of road will be addressed in this fashion so that when these works are completed, VI roads will match the quality and expectations for any roadway, anywhere in the world.
The Minister's full statement can be viewed on the Government of the Virgin Islands website at www.bvi.gov.vg.
The Ministry of Communications and Works continues to ensure the continued development and maintenance of public infrastructure in keeping with international standards so that public utilities are reliable and affordable in support of an enhanced community life for every resident and visitor in the Virgin Islands.
Reader Opinion
Please note that the opinions posted are the opinions of its author and does not in any way reflect the views of the management, staff, parent company or sponsors of Virgin Islands Platinum News.
There are no comments to show at this time.
Cruise Schedule
IN PORT - TODAY ( 30 November )
NORWEGIAN ENCORE (3998)
7:00am
3:00pm
CELEBRITY REFLECTION (3046)
7:00am
3:00pm
SEADREAM I (113)
8:00am
6:00pm
IN PORT - TOMORROW ( 01 December )
SEADREAM I (113)
8:00am
11:59pm