---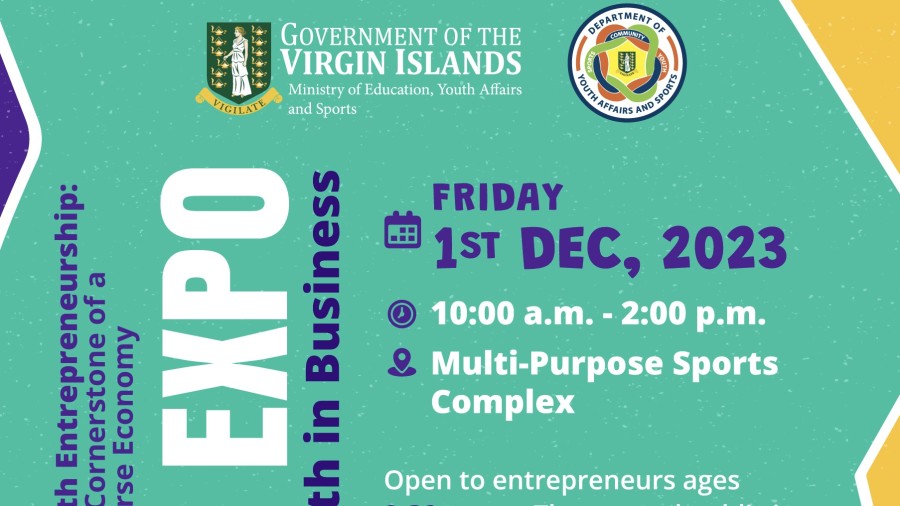 (PLTM) - GIS - Director for the Department of Youth Affairs and Sports, Mrs. Brenda Lettsome-Tye has said that the department will be hosting a Youth Business Expo to highlight youth entrepreneurs in the Territory.
The Director said, "The Department will host the Youth Business Expo under the theme 'Youth Entrepreneurship: The Cornerstone of a Diverse Economy'. Through the Expo we will host a series of entrepreneurship workshops to assist youth in business." Mrs. Tye added, "To facilitate our youth entrepreneurs on our sister islands, we have scheduled virtual sessions on days they cannot attend face-to-face."
The Youth Business Expo is scheduled for Friday, December 1, 2023 at the Multi-Purpose Sports Complex in Road Town from 10:00 a.m. to 2:00 p.m. Senior Programme Manager for Youth, Ms. Shaunice Leonard said there would be a series of entrepreneurship workshops to assist youth in business.
"The seminars will be on Wednesday, November 29 and Thursday, November 30 from 1:00 p.m. to 3:00 p.m. consecutively. On day one presenters will share on Money Management and the Business Starter Kit; and on the second day presenters will share on the title 'Be Your Brand and Protect Your Business'", said Ms. Leonard.
The Senior-Youth Programme manager added, "The event is focused on our youth between the ages of nine to thirty years. Participants of the Expo will be categorised into two age brackets: Aspiring Youth-prenures from ages nine to seventeen years; and Youth Entrepreneurs from ages eighteen to thirty years."
The Expo hopes to attract business categories that include but not limited to Beauty and Cosmetics; Construction; Photography; Graphic Design; Health and Fitness; Food and Beverage; Hospitality; Customised Services; Apparel and Accessories; Agriculture (Farming); Music and Entertainment to name a few.
Persons wishing to be an active participant in the Youth Business Expo may register by Friday, November 10 at https://forms.gle/runArPgvrXrrTTxaA.
The Department of Youth Affairs and Sports continues to ensure the delivery of sport and recreation, and comprehensive youth development characterised by quality, excellence, equitable access and full participation, in order to create a better life for all residents of the Virgin Islands.
Reader Opinion
Please note that the opinions posted are the opinions of its author and does not in any way reflect the views of the management, staff, parent company or sponsors of Virgin Islands Platinum News.
There are no comments to show at this time.
Cruise Schedule
IN PORT - TODAY ( 30 November )
NORWEGIAN ENCORE (3998)
7:00am
3:00pm
CELEBRITY REFLECTION (3046)
7:00am
3:00pm
SEADREAM I (113)
8:00am
6:00pm
IN PORT - TOMORROW ( 01 December )
SEADREAM I (113)
8:00am
11:59pm