---
Asphalt Plant Up & Running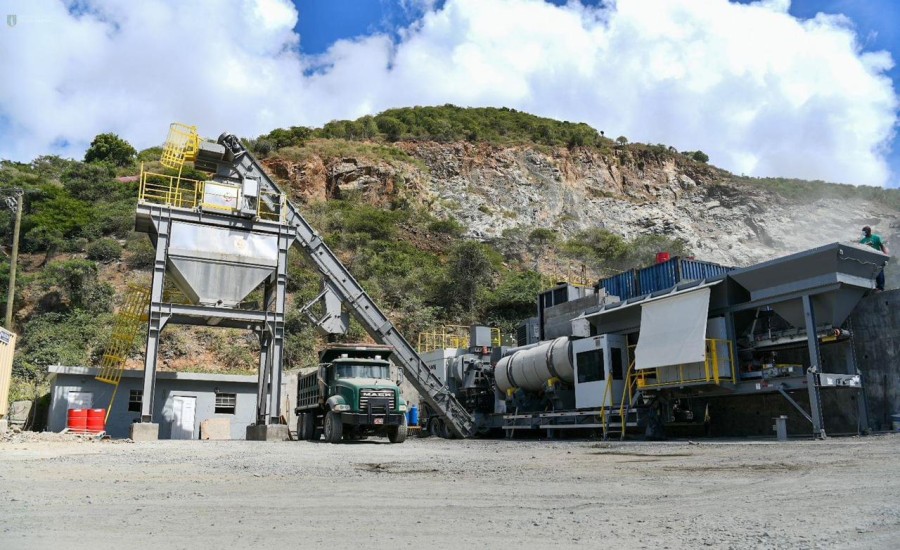 (PLTM) - Director at the Public Works Department, Mr. Jeremy Hodge, has announced that the department's Asphalt Plant has been officially commissioned.
In a press release, Mr. Hodge said the plant was successfully handed over to the department from the machine industry company Ammann and is now fully operational.
The Director stated that the commissioning of the plant is a significant milestone as it signals a major step forward in the ability to meet the Territory's asphalt road needs.
Mr. Hodge added, "Furthermore, it enables us to stretch our limited resources designated to road maintenance, making a positive impact on the overall efficiency and effectiveness of our road infrastructure."
The Director further stated that the commissioning of the asphalt plant is also a major achievement for the Government and people of the Virgin Islands.
"We are now better equipped to build a road infrastructure that we can truly be proud of. Our commitment to addressing all the roads in the Territory in a holistic manner remains unwavering. Rest assured, we will continue to prioritise the improvement of the road infrastructure in the foreseeable future," the Director said.
-----
Copyright 2023 by Virgin Islands Platinum News. All rights reserved. This material may not be published, broadcast, rewritten, or redistributed.
Reader Opinion
Please note that the opinions posted are the opinions of its author and does not in any way reflect the views of the management, staff, parent company or sponsors of Virgin Islands Platinum News.
Blind men
Need to get the guys to wear their glasses. One of the biggest pot hole in Pockwood Pond They drove pass it. Crazy.
Facts
Everything under Kye Ministry is a failure.
A Joke
This ah joke! These people took 4 days to pave less than 300 feet of road, wonder how much that cost? I guess we\'ll never know. All I know if that\'s the rate they intend to pave at, BVI in trouble. Oh well might as well go stock up on suspension parts for my car.
West End
Well West End need some please and thanks!!!!
WE AINT READY
The way I see them prepare the surface to put the asphalt on didn\'t look right / so we will wait and see if am wrong
kye 2 d rescue
The first place he paved was in front his mo**** in l** 2 buildings
OBSERVER
OK! GREAT NEWS! They have gotten off to a really good start by trying to pave in front the M…..Mother In L….Building in town and breaking down big Monday morning blocking traffic. What starts of BAD will end up BAD, WATCH and SEE. These people is just an embarrassment and will continue to be one. Up to now the road the same way as Monday Morning. Premier watch my word.
Cruise Schedule
IN PORT - TODAY ( 30 November )
NORWEGIAN ENCORE (3998)
7:00am
3:00pm
CELEBRITY REFLECTION (3046)
7:00am
3:00pm
SEADREAM I (113)
8:00am
6:00pm
IN PORT - TOMORROW ( 01 December )
SEADREAM I (113)
8:00am
11:59pm