---
ESHS Teachers Force Meeting With Premier Following Sit-In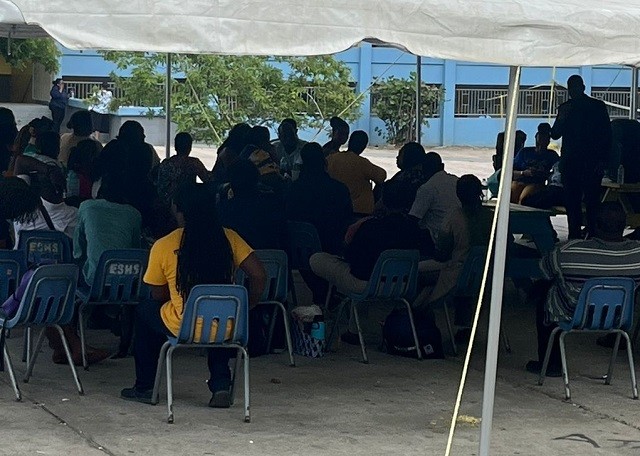 (PLTM) - In a show of frustration and discontent, several teachers from the Elmore Stoutt High School staged a sit-in this afternoon, September 15, in protest of the deteriorating conditions at the institution.
The protest, coming just days after the commencement of the new school year and months after the unveiling of new buildings on the school grounds, has prompted Premier and Minister of Finance, Hon. Natalio Wheatley, to visit the school for an emergency meeting.
The teachers' sit-in unfolded in the wake of concerns regarding the subpar facilities and environment within the school. The new buildings, which were commissioned following the devastating impact of Hurricane Irma, were initially seen as a beacon of hope for improved education infrastructure in the Virgin Islands. However, it appears that the initial optimism has given way to a growing sense of frustration among educators.
One of the primary issues raised by the protesting teachers is the inadequate air-conditioning system in the new concrete structures. The stifling heat, coupled with poor ventilation, has created a dire working and learning environment, causing significant discomfort for both teachers and students.
Teachers participating in the sit-in expressed their concerns about the impact of these conditions on their ability to provide quality education and on students' ability to focus and learn effectively.
The protest comes at a time when the start of the school year should be marked by enthusiasm and excitement. Instead, it has been marred by grievances and frustrations.
Premier Natalio Wheatley, upon learning of the teachers' protest, decided to visit the school for an emergency meeting to address their concerns. As the Minister of Finance, Wheatley also holds a crucial role in allocating resources for educational improvements, making his presence at the school a significant gesture.
The outcome of the meeting between Premier Wheatley and the protesting teachers remains uncertain.
BVI Platinum News will provide updates on the situation as more information becomes available following the meeting between the teachers and the Premier.
-----
Copyright 2023 by Virgin Islands Platinum News. All rights reserved. This material may not be published, broadcast, rewritten, or redistributed.
Reader Opinion
Please note that the opinions posted are the opinions of its author and does not in any way reflect the views of the management, staff, parent company or sponsors of Virgin Islands Platinum News.
Quietly Watching
The Government did a wonderful job along with the RDA in the construction of the new Elmore Stoutt High School. Now care has to be taken with ensuring the children has air conditioned and properly equipped classrooms. There was also a huge mistake made in not providing a lunch facility for the students to sit comfortably and have their lunch. A temporary structure is needed quickly to remedy this while plans are drawn up for something more substantial. It is important to ensure that our students are comfortable and happy in their new school.