---
Royal Navy's Most Advanced Destroyer In The BVI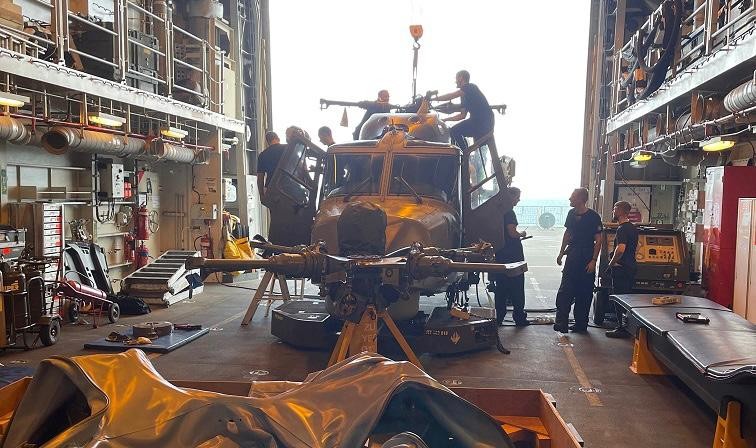 (PLTM) - HMS Dauntless docked in Road Town this morning, and will be in the BVI's waters this week as part of a routine visit. Whilst here, the crew will meet with members of the National Security Council, host a disaster exercise and conduct an on-water search and rescue exercise.
According to government, HMS Dauntless is the Royal Navy's most advanced destroyer. It has been deployed to the Caribbean to support British Overseas Territories during hurricane season and to counter drugs trafficking in the region.
HMS Dauntless recently seized 1.2 tonnes of cocaine worth an estimated $175m while patrolling an area in the Caribbean Sea. The ship's Wildcat helicopter, Royal Marines and the US Coast Guard were all deployed to intercept the suspect boat.
On the first day of the visit, the Governor attended a lunch with members of the BVI National Security Council, the ship's Commanding Officer and other key individuals. The Premier, Junior Minister Dr The Hon Karl Dawson Dawson, Acting Commissioner of Police, Acting Attorney General and the Director of Disaster Management were in attendance.
Later in the week, HMS Dauntless will host a Disaster Relief Exercise on board in partnership with key local agencies. This exercise will help the crew of HMS Dauntless to better understand how the BVI would deal with a disaster and demonstrate what support the ship would be able to provide. Additionally, HMS Dauntless will conduct an exercise with the Police Marine Unit and Virgin Islands Search and Rescue.
Governor, John Rankin CMG, said, "The team aboard HMS Dauntless will meet with key partners to ensure that they are ready to respond effectively should their support be required."
"The safety and security of the people of the Virgin Islands is my top priority. We must all remain prepared this hurricane season, and I am grateful that HMS Dauntless has been able to visit to demonstrate the assistance it can provide."
-----
Copyright 2023 by Virgin Islands Platinum News. All rights reserved. This material may not be published, broadcast, rewritten, or redistributed.
Reader Opinion
Please note that the opinions posted are the opinions of its author and does not in any way reflect the views of the management, staff, parent company or sponsors of Virgin Islands Platinum News.
WiGO
on the yello site is going to go crazy now writing & blogging and singing his usual racism lyrics , the devil has found work for the IDIOT to do \n
Ok
This is an annual scheduled trip so nothing new here.