---
Threat From Hurricane Lee Diminishes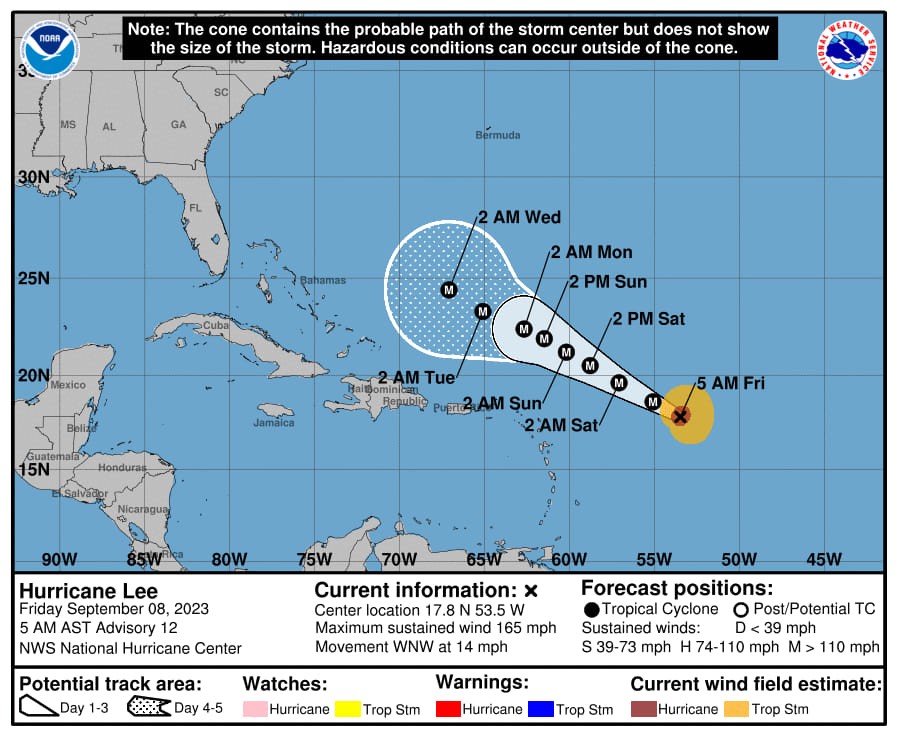 (PLTM) - The Antigua and Barbuda Meteorological Services has officially lifted the Tropical Cyclone Alert for Antigua and Barbuda, as well as the rest of the Leeward Islands and the British Virgin Islands, following the exit of Hurricane Lee from the monitored area.
Although the immediate wind threat has diminished, the system continues to be closely monitored. It is highly likely that Hurricane Lee will maintain a safe distance from the islands, minimizing the wind threat in the reasonable worst-case scenario. However, there are other concerns relating to the high threat of above-normal swells that could lead to extensive impacts and life-threatening conditions.
As of 5 AM, the center of Hurricane Lee was situated near latitude 17.8 North and longitude 53.5 West, approximately 636 miles east of the British Virgin Islands. The storm is moving in a west-northwest direction at a speed of 14 MPH. Its maximum sustained winds have surged to nearly 165 MPH with higher gusts, classifying Hurricane Lee as a Category 5 hurricane on the Saffir-Simpson Wind Scale. Forecasters anticipate additional strengthening today, and Lee is expected to remain a major hurricane through the next week.
Based on the forecast model tracks, Hurricane Lee is projected to pass over 250 miles away from the area on Sunday. At that time, storm-force winds are forecast to extend approximately 160 miles from the center, ensuring the islands remain safe from hazardous winds. However, residents should be prepared for the arrival of above-normal swells, which are expected to batter mainly the northern and eastern shorelines beginning late Friday. Appropriate warnings will be issued accordingly.
Rainfall predictions remain challenging, but the best available guidance suggests that Lee may bring no more than 50 mm or 2 inches of rain to the affected regions between now and Tuesday. This assessment will be updated as new data becomes available.
As of now, there are no alerts, watches, or warnings issued for the British Virgin Islands. Residents are urged to continue monitoring Hurricane Lee until it has moved completely out of the area. It is strongly recommended that everyone remain prepared for the remainder of the hurricane season.
-----
Copyright 2023 by Virgin Islands Platinum News. All rights reserved. This material may not be published, broadcast, rewritten, or redistributed.
Reader Opinion
Please note that the opinions posted are the opinions of its author and does not in any way reflect the views of the management, staff, parent company or sponsors of Virgin Islands Platinum News.
Wow
We in BVI and the Caribbean have a lot to thank God for. Let us pray this monster never hits land anywhere in the world.