---
Two-Way Traffic For Portion Of Main Street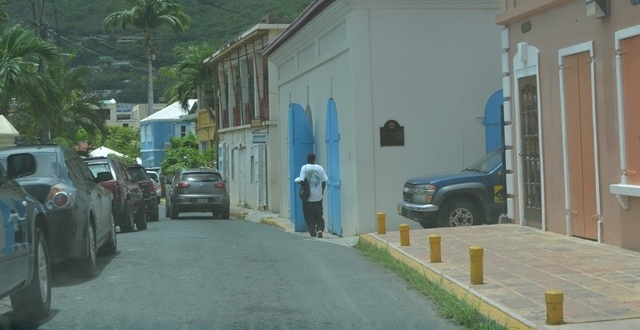 (PLTM) - Recognizing the persistent traffic bottlenecks during peak hours, particularly along Waterfront Drive, the government plans to implement a series of changes that are expected to have a positive impact on the city's daily traffic woes.
Addressing the House of Assembly, Minister for Communications and Works, Hon. Kye Rymer announced a significant initiative aimed at improving traffic flow and reducing congestion in the heart of Road Town.
"We will seek to convert only the section of Main Street between the foot of Joe's Hill by the Road Town Methodist Cemetery to the intersection of Main Street and Flemming Street into two-way traffic," Hon. Rymer stated.
He pointed out that the rest of Main Street, starting at the same intersection of Flemming Street to Customs Road intersection in the vicinity of the Commercial Court building, will remain a one-way heading in the westerly direction.
"Madam Speaker, we have recognised that many motorists may want to head up through Joe's Hill Road or perhaps even to Long Bush or Lower Estate become caught up in the traffic along Waterfront Drive heading towards Purcell Estate and beyond," the Minister explained.
He explained that the limited number of roadways, coupled with the steadily increasing number of vehicles, have all led to congestion issues, particularly around lunchtime and after 4 p.m.
Motorists heading east on Waterfront Drive have faced substantial delays, mainly due to a bottleneck at the roundabout. Even alternative routes like Shore Way Drive lead to congestion at the intersection of Flemming Street and Shore Way Drive near RiteWay.
It is estimated that this new outlet will reduce traffic congestion by at least 35%, significantly improving the daily commute for residents and visitors alike.
Recognizing Main Street's narrower width compared to other roads, large trucks will be prohibited from using this segment, encouraging them to utilize alternative routes. The government has also requested designs from the Public Works Department to incorporate sidewalks, enhancing pedestrian safety.
-----
Copyright 2023 by Virgin Islands Platinum News. All rights reserved. This material may not be published, broadcast, rewritten, or redistributed.
Reader Opinion
Please note that the opinions posted are the opinions of its author and does not in any way reflect the views of the management, staff, parent company or sponsors of Virgin Islands Platinum News.
HORRIBLE IDEA
That will worsen the traffic! Flemming street alone is jammed with traffic on any day!
Parking.
There definitely should be no parking on that stretch of road except for delivery and pickups.
boo
flip flop flip flop...this when we have only 5 experts in the whole country that think they have the answers for everything
hmmmm
What expert? This country needs outside help to fix the road and better advice on better traffic flow.
Lack of (Proper) Planning
This is why we need proper road engineers to stop non-sense like this. \nSO what happens to the folks that park along Main Street for that long segment.\nSaying truck drivers will be prohibited still won\'t stop them from using it.\nThe bottle necks exist because majority of road users are ass holes and don\'t follow the basic driving regulations.\nJust coming up with something out of ya @$$ will not fix the problem. I\'m 100% sure that 35% you calling is absolute BS.
Like really?
Not trying to be funny but that has got to be a stupid idea. The street is not wide enough to do That.
????
Soooo…. Nobody parking their cars in that segment of the road … I guess
IS THIS 4 REAL ?
WELL SAH , THE OLD REPUBLIC HEADS SAY NEVER PUT A BOY TO DO A MAN\'S JOB , CRAB LOT NEEDS IT\'S OWN ROAD OR SHORT CUT ?
Hot mess
Leave the traffic how it is. You have more cars so expect traffic woes.
A friend
Do they plan to widen the S curve close to Fatima?\nThat will help to ease the congestion as it\'s currently a narrow roadway.\n