---
Lee Strengthens! Poses Potential Threat To BVI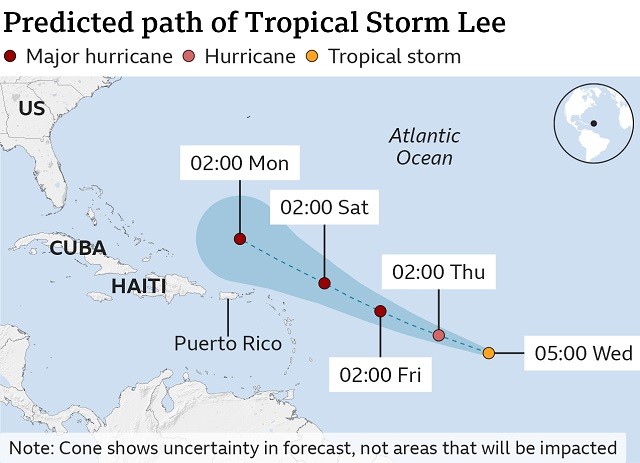 (PLTM) - The National Weather Service has issued a Tropical Cyclone Warning for the several islands, including the British Virgin Islands as Hurricane Lee rapidly intensifies.
Lee is forecasted to become an extremely dangerous major hurricane by early Saturday, with the potential to impact the region.
At 5 PM today, the center of Hurricane Lee was located near latitude 14.9 North, 46.4 West, approximately 1033 miles east-southeast of the Downwind Islands and about 1,227 miles east-southeast of the British Virgin Islands. Lee is currently moving west-northwest at a speed of 14 mph, and this motion is expected to continue over the next few days, with a slight reduction in forward speed over the weekend.
Lee's sustained maximum winds have increased to near 75 mph, accompanied by stronger gusts.
Meteorologists predict that it will continue to strengthen rapidly and could become a major hurricane in a day or two. Hurricane-force winds extend up to 15 miles from the central point, while tropical storm-force winds reach out to 90 miles. The estimated minimum central pressure is 991 mb.
While most forecasting models suggest that the center of Hurricane Lee will likely pass at a relatively safe distance to the north of the northern Wind Islands, residents are strongly encouraged to remain vigilant and closely monitor the progress of this cyclone. Although there are no monitoring or warnings in effect at this moment, preparedness is key during the hurricane season.
In its forecasted path, Tropical Storm Lee could approach the islands on Friday or Saturday afternoon as a major tropical cyclone, potentially bringing hazardous seas and other impacts, including the possibility of storm winds and heavy rain. The specific impacts will depend on the cyclone's path, size, and intensity, which will become clearer with time.
Residents in the British Virgin Islands are advised to have their hurricane preparedness plans ready and stay informed about the latest updates on Hurricane Lee.
-----
Copyright 2023 by Virgin Islands Platinum News. All rights reserved. This material may not be published, broadcast, rewritten, or redistributed.
Reader Opinion
Please note that the opinions posted are the opinions of its author and does not in any way reflect the views of the management, staff, parent company or sponsors of Virgin Islands Platinum News.
O
God in control just pray and fait that every thing will be oright