---
Skelton Questions Plan To Fight Crime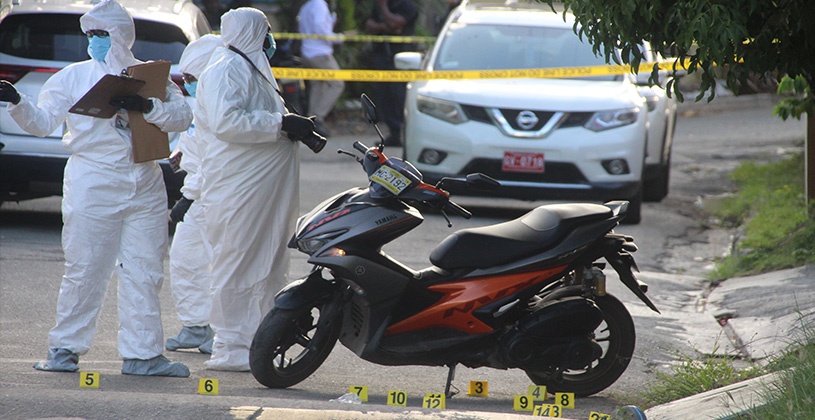 (PLTM) - As the territory continues to be gripped by an increase threat from gun related incidents and homicides, Premier and Minister of Finance, Dr. Natalio Wheatley has assured that a plan is bring crafted.
"I am very disheartened every time I see an incident of gun violence in our community," Premier Wheatley told the House of Assembly in response to Opposition Leader, Hon. Ronnie Skelton.
Skelton requested from the Premier what plan the National Security Council (NSC) is putting in place to tackle the unfolding crime situation.
The Premier stated that the NSC recently made a decision to develop a national plan to address violence in the Territory. He explained that the plan is expected to be a comprehensive one and will include non-traditional methods of addressing crime.
"The drafting of the plan has already commenced and once it is finished of course it would be brought to the National Security Council and then to Cabinet and then it will be laid on the table of the House of Assembly. I will ask for all parties involved to put hand and hearts together in this fight against crime in our territory," the Premier stated during the sitting today, September 5.
Skelton questioned the premier on what is meant by non-traditional methods. The Premier stated that the intent is to use strategies such as education, youth programmes, job creation and conflict resolution.
According to Premier, this is in addition to the more direct traditional approaches that the police force and other law enforcement agencies will deal with in addressing crime.
The question was raised one day after the Territory recorded another shooting death. Azim Yonnas, 26, of Butu Mountain died hours after being shot in Long Bush on Sunday night, September 3.
"My thoughts and prayers are with the family of the young man who recently lost his life well as all the other families who have lost lives to gun violence and yes as a member of the National Security Council it remains an urgent and critical concern," Dr. Wheatley stated.
Like the Premier, Hon. Skelton expressed his sadness over the young lives that have been lost, particularly males.
-----
Copyright 2023 by Virgin Islands Platinum News. All rights reserved. This material may not be published, broadcast, rewritten, or redistributed.
Reader Opinion
Please note that the opinions posted are the opinions of its author and does not in any way reflect the views of the management, staff, parent company or sponsors of Virgin Islands Platinum News.
Nonsense
No legislation ever fought crime! Only sentence criminals after the crime already committed!
LCS
Waiting and asking? Why aren\'t all Ministers getting together to brainstorm ways to tackle the uprising of crimes. Put down a plan on how to work things out. Then discuss with NSC, Police, Communities, Businesses. Everybody needs to be involved because it affects us all. The Economy will suffer if these are not addressed.
ALL AH DEM
KNOW WHAT WAS GOING O BUT TURNED A BLING EYE TO IT OR SWEPT IT UNDER THE RUG , AND EVEN WHEN IT IS EXPOXED THEY SAY THAT PEOPLE ARE TRYING TO MAKE US LOOK BAD AND COMPARE IT TO THOSE OTHER COUNTRIES WHO HAS IT WORSE THAN US , AS IF IT AINT NO BIG DEAL , INSTEAD OF NIPPING IT THE BUD THEY KEPT HIDING IT ( BECAUSE O F FAMILY TIES AND FRIENDS CONNECTIONS ) AND NOW THAT IT HAS GROWN ROOTS AND WE ARE SEEING THE FRUITS OF THEIR OWN HYPOCRISY THEY ARE TRYING TO CREATE SCAPEGOATS TO BLAME IN AN ATTEMPT TO TRY TO DECIEVE US , HIDING THE THE PROBLEM WON\'T MAKE IT GO AWAY OR TAKE CARE IT NOW THAT IT HAS ESCALATED , ( WHAT A SET OF PRETENDERS ON THE LOOSE HERE
Jeanne
Disheartened? I'm not born here, and I'm horrified each time I see the news of a violent crime.
Jim
Love the pic. Scooters are the problem \n\nI disable every one I walk by\n